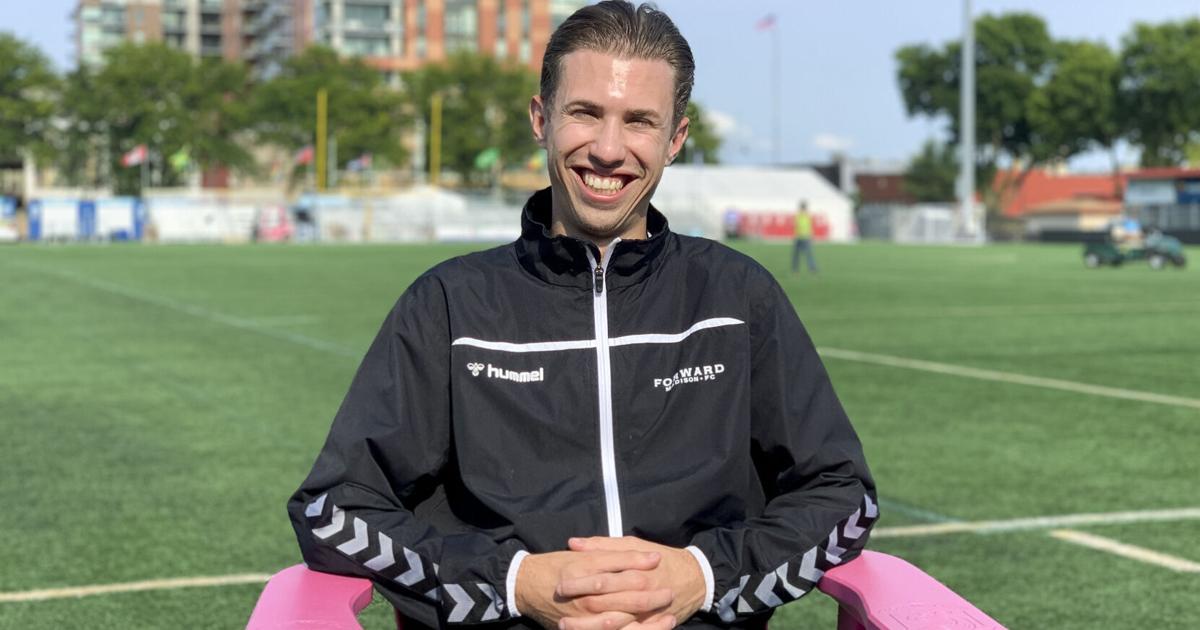 When Evan Warwick first approached forward Madison FC, it was at the height of the COVID-19 pandemic. He wanted to become the team's official FIFA (video game) player.
This is common. Many football clubs have official esports players. But Warwick didn't last long in the job, but the commission paved the way for the 26-year-old Muskego native.
Warwick has worked with the club for over a year as Director of Digital Content. Simply put, he's the club's chief meme his officer and runs Forward Madison's social media his account. His job is to keep fans engaged with the club regardless of the results on the field.
His technique seems to be working. Forward Madison FC has tens of thousands of followers on platforms such as Twitter (@ForwardMSNFC), Instagram (@forwardmadisonfc), and TikTok (@forward.madison), using each to keep fans up to date on players, ticket deals, and memes.
Warwick recently spoke to Cap Times about developing the personality of a professional sports team, the club's commitment to the Madison community, and the team's creative process.
Where do you start when trying to develop a sports team personality?
It really starts with the people behind the account. As an administrator, you are like the Wizard of Oz behind it. It is a real person when you open the curtain.
The front office staff are just as part of the club as the players on the pitch and we all come from the perspective of being fans. We just love our team and our club, so building a brand is so easy.
Clubs sometimes struggle with being authentic and authentic. We don't really struggle with that… When it comes to content, it's always a question of "does this fit the brand?" 99% of the time, it is because our brand is so broad. You can do whatever you want.
There are still boundaries that don't get crossed — we always want it to be as inclusive, engaging, and authentic as possible.
How do you keep a player's spirits up when results don't go your way on the field?
The great thing about our brand is that we support these players in every way possible. Being a USL League 1 player is tough. I want to create a brand that encourages subordinates regardless of the outcome.
We always focus on telling unique stories. For example, one player is from South Africa and wanted to know more about his experience growing up there. His dad died tragically a few years ago and his dad was his biggest supporter.He wanted to pay tribute to his deceased father and wanted to bring this to his community in South Africa. Created a soccer tournament for him. The tournament focuses on bringing football to communities with low incomes and high barriers to entry. That's a great story.
Not only did we want to tell it, we also wanted to support it. So the club helped share the message, shared the donation link and the supporters blew it up.
The club has also supported a variety of other initiatives. Why invest so much in giving back to Madison and the rest of the community?
I have always approached marketing from the perspective of "How can I have a positive impact on the community around me?" I like to see tangible results from what I sell. Because it means that action is being taken to make sports and other communities in Madison better for future generations.
Take Ukrainian kits, for example. As his third-division club in Madison, he raised $43,000 for Ukraine relief. You never know how big your effort will be until it actually happens. If that's the impact of his year as a club, great.
At least part of the reason the club is so popular is due to its cheery online presence. What's the behind-the-scenes meme creation process like?
It's really organized chaos. We prepare what we know we can prepare. Like Cougar Puck, I knew Yung Gravy was playing a concert in Madison.
I thought, 'I can do something here. Are you related to soccer? Not at all. But he's a Madison guy, and we can relate to that.
Sometimes we can anticipate it, sometimes it's just the moment. I saw the NFL do a Hispanic Heritage Month release. I never thought they would put it out (but) you jump at it.
You look at something and ask, "Can you make this interesting?" Can you relate to us as a brand? We always set aside time in the day to adapt to the story of our players so that we can adapt to trends.
I come from a marketing department where everything is incredibly structured and you have to follow a process. It's quite the opposite in Forward Madison. Whatever the day brings, we will follow it. As a creator, you couldn't ask for more. The world is my oyster every day.
.